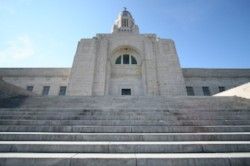 Advocacy for Nebraska CRNAs in Congress
In April, 8 CRNAs and 13 SRNAs represented Nebraska at the AANA MidYear Assembly in Washington, D.C. joining 1,000 CRNAs from across the nation in advocating our message to our state's Senators and Congressmen.  We want to thank everyone who personally donated to aid our students in their travel; as it wouldn't be possible for many of them to attend without some aid.  

The AANA staff and President Bruce Weiner joined our Nebraska delegation during our meeting with Senator Adrian Smith to present him with the AANA National Leadership Award to recognize all that he does for rural health.  

We discussed 6 major topics with our Senators and Congressmen.  They included 1) Rural Care, 2) VA Access to Care, 3) Barriers to CRNA Practice, 4) Opioid Crisis, 5) CRNAs as a Cost-Effective Solution to Healthcare, and 6) Supporting our Nurse Anesthesia Workforce Development.  My general impression is that the AANA is taking more of an offensive approach to many issues instead of just playing defense.  It was exciting to learn about all we are trying to accomplish.  

Rural Care
In regards to rural care, we asked for support of house bill HR 3224. The Critical Access and Rural Equity (CARE) Act would ensure rural hospitals can keep their doors open and will restore CRNA standby & on-call payment eligibility.  We also asked our representatives to oppose HR 2881 which would provide additional funding to anesthesiologists serving in rural areas. We stressed that the only thing this would accomplish is increasing costs without any benefit to patient care. 

VA Access to Care
In regards to VA access to care, we educated our senators and congressman on how and why we were the only APRN left out of independent practice in the VA handbook last year. We also discussed how our CRNAs function within NE's VA system and also our neighbors in Iowa being CRNA only. We contrasted that with the wasteful spending in other areas across the nation. Specifically the Denver VA, where MDAs medically direct CRNAs at a 1:1 or 1:2 ratio.  We emphasized that access to care is an issue: VA's own commissioned study proves this and VA is currently contracting out anesthesia services costing over $100 million. VA in Denver has cancelled 65-90 surgeries due to an access issue. How can we right this wrong? Cosponsor HR 1783 and contact the VA Secretary to express the need for full practice authority to CRNAs.  

Barriers to CRNA Practice
Medicare Administrative Contractors (MACs) are exceeding their authority by issuing an Local Coverage Determinations (LCDs) and essentially going around CMS policy and regulation and not reimbursing CRNAs . We saw this in large effect with Novitas and instances are popping up across the nation.  We asked our Congressmen to cosponsor and support HR 3635/S 794, allowing patients and providers recourse in challenging LCDs.  You recently received an update from President Weiner relaying good news that hard work in direct communications with Novitas has resulted in them not implementing the LCD that would have limited reimbursement to CRNAs for facet joint injections.  

Opioid Crisis
We also educated about our role in helping join together to solve the opioid crisis. We are already playing a role in patient education, nerve blocks for acute pain, opioid-free anesthetics and chronic pain interventions. We offered to serve as a resource to our Senators and Congressman and to join in their efforts to combat this epidemic.  

CRNAs as Cost Effective Solution to Health Care
In regards to CRNAs being a cost-effective solution to healthcare, we focused on the safety of CRNAs and how we can be utilized to decrease healthcare costs by practicing to the full extent of our scope practice, licensure and education.  

Workforce Development
Our students spoke with our Senators & Congressmen on the topic of supporting our Nurse Anesthesia Workforce Development.  They verbalized the rigors of an anesthesia program and the financial burdens. As the House and Senate are finding ways to decrease the deficit, we asked them to consider keeping funding for our nursing workforce development. We asked them to support reauthorization of the Title VIII program by cosponsoring HR 959.  Our requests were heard and Title VIII funding will continue!

State Legislative Priorities
NANA continues to monitor for any inclination of legislation to bring AAs to our state.  We currently have no advanced knowledge that this will occur this upcoming session, but we remain vigilant.  Most of our neighboring states have battled this legislation, so we know it is not a matter of if, but a matter of when.  

We are continuing our partnership and support with the APRN Coalition to pursue becoming part of the APRN Compact.  

This Fall there will be a National PR Campaign funded by the National Nurses Association for APRNs across our state advocating for full practice authority and educating on what role APRNs play in healthcare.  

We also continue to maintain good relationships with our state senators, specifically those serving on the Health & Human Services Committee.  We continue to maintain a good relationship with Governor Ricketts as well, stressing the importance of CRNA opt-out to our state.  

We also testified on behalf of educational requirements regarding the opioid crisis.  Due to the nature of our practice, the senators agreed to leave us out of the bill with specific requirements that would really be outside of our use of opioids.  

This year we will also evaluate the benefits of looking at the organization/guidelines of the 407 process again and determine if we would like to try and present a bill again regarding its reform. 
The aforementioned goals and accomplishments require a lot of personal time forming relationships and PAC funding on both the national and state level.  Please personally donate to both PACs as that is the ONLY way we can receive funds.  Locally, WE NEED Senators on our side when AA Legislation hits our state. WE NEED Senators on our side if legislation comes through to limit our practice. WE NEED Senators on our side to advance and adapt our practice. WE NEED the governor on our side to remain an opt-out state. Never take for granted what this requires – hard work, relationships, and PAC dollars.

Thank you for your help!!

Tiffany Olson