NANA Day at the Capitol
The 2020 NANA Day at the Capitol will be Wednesday, January 22, during CRNA Week.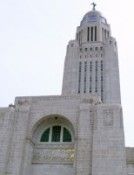 Join your colleagues any time between 9 am – 3 pm to do blood pressure checks, deliver gifts to state senators, and promote awareness of CRNAs at the State Capitol in Lincoln.
Sign up below if you are interested in participating.