Becoming a CRNA
Education and experience required to become a CRNA include: 
A Bachelor of Science in Nursing (BSN) or other appropriate baccalaureate degree.
A current license as a registered nurse.
At least one year of experience as a registered nurse in a critical care setting.
Graduation with a minimum of a master's degree from an accredited nurse anesthesia educational program. As of Aug. 15, 2015, there were 115 accredited nurse anesthesia programs in the United States utilizing more than 2,500 active clinical sites; 37 nurse anesthesia programs are approved to award doctoral degrees for entry into practice. Nurse anesthesia programs range from 24-36 months, depending upon university requirements. All programs include clinical training in university-based or large community hospitals.
Pass the National Certification Examination following graduation.
In order to be recertified, CRNAs must obtain a minimum of 40 hours of approved continuing education every two years, document substantial anesthesia practice, maintain current state licensure, and certify that they have not developed any conditions that could adversely affect their ability to practice anesthesia.
Regional Nurse Anesthesia Programs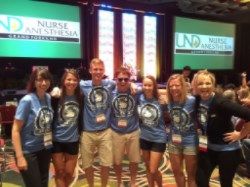 Bryan College of Health Sciences
5035 Everett Street
Lincoln, NE 68506
Program information
Degree: Doctor of Nurse Anesthesia Practice (DNAP)
Program Length: 36 months
Starting Month: May
Contact: Sharon Hadenfeldt, CRNA, PhD – Dean of Nurse Anesthesia
Phone: (402) 481-8606, Office 215; (800) 742-7844, ext. 13801
Email: Sharon.hadenfeldt@bryanhealth.org
Website: http://www.bryanhealthcollege.edu/bcohs/academic-programs/nurse-anesthesia/
Clarkson College 
101 S. 42nd Street 
Omaha, NE 68131
Program information
Degree: Master of Science in Nursing (MSN) with a specialization in Nurse Anesthesia
Program Length: 30 months
Starting Month: August
Contact: Jane Cromer, CRNA, MS – Nurse Anesthesia Program Administrator
Phone: (402) 552-3621; (800) 647-5500
Email: cromer.jayne@clarksoncollege.edu
Website: http://www.clarksoncollege.edu/nursing/degree-options/nurse-anesthesia/
Mt. Marty College
5001 West 41st Street
Sioux Falls, SD 57106-1424
Program information
Degree: Master of Science
Program Length: 30 months
Starting Month: August
Contact: Nurse Anesthesia Program Office
Phone: (605) 362-0100; (877) 727-8672
FAX: (605) 362-5706
Email: msna@mtmc.edu
Website: http://www.mtmc.edu/msna/